To Stony Brook University: Stony Brook University is located in Stony Brook, NY, off Nicholls Road (Route 97) and Route 25A. From the Long Island Expressway, take exit 62 north to Nicholls Road. Follow Nicholls north past Route 25 and past Route 347, until you see signs for Stony Brook University. Follow the signs for the west campus main entrance that direct to: Admissions/Staller Center/Wang Center, which will be the second stop light entrance. Turn left onto campus. Additional directions and maps are available here, as well as a printable map.
To the Social and Behavioral Sciences (SBS) Building: After entering the campus at the West Campus Main Entrance, continue through the light and veer left to park in the garage. The SBS building is immediately adjacent to the garage on the south side. You may see a sign on the SBS building that says School of Professional Development in addition to Social and Behavioral Sciences.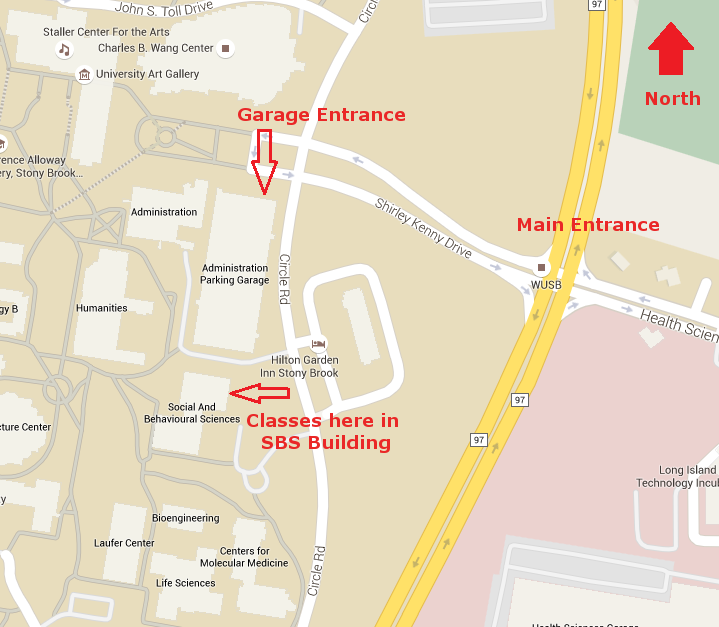 To the Physics Building: After entering the campus at the West Campus Main Entrance, make a right before the main parking garage onto Circle Rd. Continue on Circle Rd until you get to Campus Dr. Make a left onto Campus Dr and then a quick left onto John S. Toll Drive. Make a right into the first parking lot on your right. Please see the maps below for driving and walking directions to the Physics building. (Alternatively, the Physics building is straight south from the railroad station.) Use the main entrance.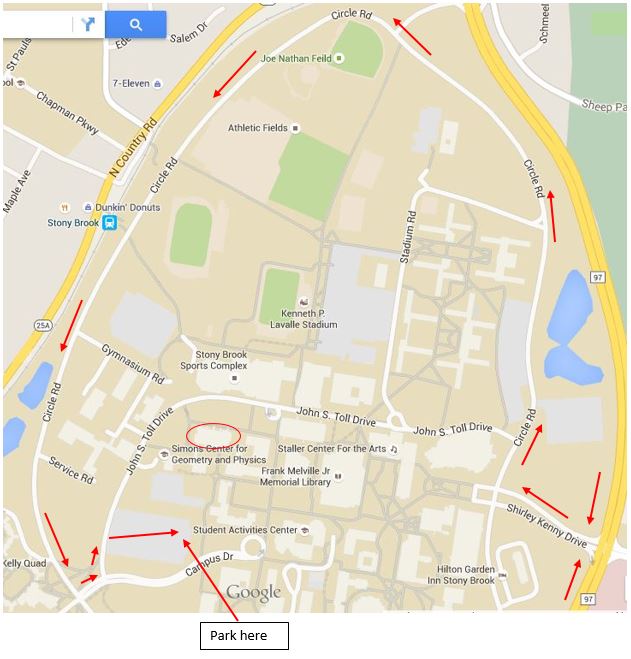 Follow the directions below to walk from the parking lot to Physics building: